Sometimes it seems easier to keep your mouth shut. Right? Our communities and work places can be overly "politically correct" environments these days, and it feels as though you can't say anything anymore without risking offending someone. It's easier to think if we don't offend we will solve the issue of managing our differences, maximizing our work effectiveness, and mitigating risks of liability in our business, but the real solution to the problem lies below the surface, much deeper in our subconscious.
I started delivering training programs to educate about  Workplace sexual harassment  for companies in the early 90s at the ripe old age of 26.  I remember how unsettling it was then for people to shift how they viewed what was acceptable in a new and  ever-changing corporate climate. Raunchy birthday cards, calendars of scantily- clothed women pinned on cubicle walls, racial jokes, inappropriate comments about a women's body or dress, believe it or not, were all a normal part of the workplace, and considered acceptable at the time.
In the 1960s, the statistics were that the typical U.S. workplace was made up of 29-year-old white males, it seemed more than not, that everyone was the same, so it was assumed offending someone was a non-issue. Over time, the corporate environment has gone through a transformation and changed drastically in terms of who makes up the workplace.  So how do we communicate and work effectively with people of different ages, nationalities, genders, religions and political beliefs without alienating or offending them?  I believe the answer is the same in 2018 as it was 25 years ago, it's about understanding what story you tell yourself about others and understanding what story they tell themselves about you… it all comes down to BIAS.
No matter how open minded, evolved and unbiased you believe you are, like it or not, bias exists in all of us.  Why? Because we all have a life story that lives in our subconscious, our emotional brain. Our life stories are a collection of experiences that most of the time, without our awareness, inform how we think, act, and behave. Gaining awareness of these stories and our biases comes from improving our Emotional Intelligence, which while intangible, is "something real" in each of us. Our EQ affects how we manage behavior, navigate social complexities, and make personal decisions. When our subconscious or emotional brain is in charge, our biases inform our behavior. When we use our Emotional Intelligence to also engage our logical brain, we understand our stories, our biases, and enact judgement to overcome our biases and achieve positive results.
I grew up in rural PA in a place with very little cultural diversity, yet I always believed I wasn't prejudice despite my very "white" upbringing. That all changed at 24 years old, living in Philadelphia while getting my Master's in Psychology. I vividly remember one-night walking home to my apartment on University of Pennsylvania's campus, when a group of young black men, were walking toward me on the same side of Locust Walk and my brain said, "danger!" But then I thought "this is ridiculous" and started to have a conversation with myself, "Why am I assuming these guys are dangerous? Would I feel the same way if they were white?"  And the honest answer was, NO. Was I prejudice, MAYBE, but, was I biased, YES!
I started to think about my life, and all the stories that informed me that "groups of black men are dangerous."  I decided then, rather than to deny it, I would have to lean into this knowledge, own my prejudice, and create a new story to change my biases. This profound experience inspired me to work with people and businesses to transform into a more emotionally intelligent version of themselves.
Like the corporate environment has evolved over the years, I have seen first-hand how sexual harassment training has evolved as well.  Sexual harassment, became harassment and respect training, to present day "bias training."  Thanks to technology and understanding how the brain functions, we are finally getting to the root of the problem. Our emotional, subconscious, brains rule us, and so therefore,  when only our emotions rule us, our judgement becomes impaired creating BIAS.
I have spent 3 decades of my career helping people in business understand their and other's stories to be more effective leaders, managers, employees, salespeople and people. I have learned that most people are well-intended. They simply don't know how to discover their stories to find a new way to behave to be more effective in dealing with diversity & bias.  You can tell people WHY they need to do something, and tell them WHAT they need to do, but without showing them a HOW to, I believe the efforts are for naught.
What I know, is that your subconscious is telling a story about every  person you encounter every day, and they are telling a story about you, or your business. And these stories are biased and can cost you. When executives help themselves and their people embrace their bias and understand their stories, they change the dialogue, increase emotional intelligence and people learn to connect rather than stopping successful communication.
Article By: Christine Miles, M.S. Ed – Co-Founder & Chief Architect
Additional Resources
https://www.washingtonpost.com/news/on-leadership/wp/2018/04/17/starbucks-is-turning-to-a-type-of-workplace-training-that-really-took-off-after-ferguson/?noredirect=on&utm_term=.6eeeab7ce9ca
Unconscious-bias training, meanwhile, starts by helping workers understand that many biases are ingrained, whether by giving them a test or generally helping them understand the science behind their inherent nature. That is followed by a discussion around how that plays out in the workplace and — hopefully — some strategies for tackling those ingrained biases at work.
https://www.witi.com/articles/993/How-to-Inspire-Yourself-When-You-are-the-Victim-of-Bias/
Transcend whatever bias you are facing by going deep within yourself and affirming and supporting your highest self and highest potential.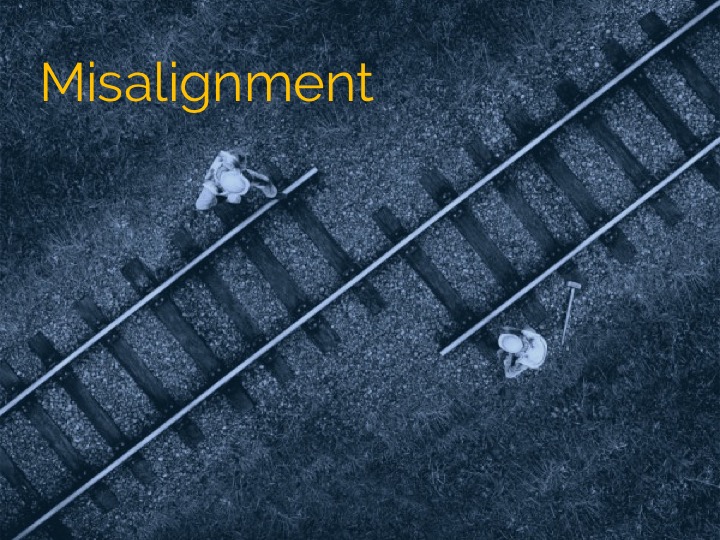 Let me start with a Story of one of our key clients. XYZ is a fast-growing technology company, having problems between product development and product marketing. Product development certainly had a big job for their stable applications that were the backbone of the business. They were also quickly transitioning to a nimbler organization with design thinking and agile methodologies; but not quick enough for the functional units who relied on them.  Product management was actively working with the new digital customers, frequently needing changes to respond quickly. Customers were demanding digital experiences monthly, weekly, and daily. Jane, the head of Product management was constantly in Chip, the VP of development's office, first requesting then demanding that they move faster. Shift what they were working on and change on a dime was always the theme to Chip. Jane could not listen or hear why development could not meet this pace.  Unfortunately, it got heated to the point that Jane and Chip stopped talking.  This spread like wildfire through watercooler conversations, cascading to other loyal members of their teams. Tough issues became harder to disagree on and discuss. The conflict was having a large effect on product development, speed, quality, and even affecting customer satisfaction. Fortunately, in this case, the relationship became so broken that it bubbled up to the CEO, Bill. He was first very angry. Did they just not like each other? Not want the company to succeed? Why could these two senior executives let this happen? Then an idea hit him like a bolt of lightning: what if it was his leadership problem?
We believe that this is not an isolated incident in our fast paced world.  Miscommunication and misalignment may be rampant in your organization. If so, it is sapping your company's productivity, adding time and expense to large projects and slowing your organization down.  Multiple technology disruptions are affecting us rapidly in Cloud, Big Data and AI, IOT and Blockchain. This coupled with the multi-generational transfer in the workplace is creating unprecedented change. We call it Digital Disruption, and want to help you turn it into Digital Transformation.  How do you stay ahead, make sense of this chaos while exploring some new ways of communicating to increase productivity, move faster, reduce conflict, and drive real business results? By focusing on the human side.
Think about your workday and then extend it to the key people you interact with internally or externally. With not enough time to accomplish your important tasks and priorities shifting on a dime, you are frequently multi-tasking or transitioning between tasks. This creates a lot of opportunity for miscommunication and misunderstandings that result in doing things over. There is often not enough time to clarify for our understanding particularly when we disagree. Without this connection and empathic understanding, we are like runners in a relay race who constantly drop the baton.
The effects of our environment are making it harder and harder to communicate for real alignment.  And unfortunately, it is hard to detect.  These opportunities for miscommunication are unfortunately not as clear to your P&L as a lost piece of revenue, increasing costs, or an angry customer. The effects of undetected misalignment and miscommunication can be terrible with downstream affect on costs, employee morale, and your all important culture.
We understand that most of this miscommunication is occurring because the world is changing fast and we are all pressed for time. Unfortunately, the old communication tools and techniques that we have been taught are just not working. They do not teach the behavioral or psychological skills needed to connect with people or how to listen in a way to gain empathy and understanding. And they do not teach us how to slow down. When conflict starts happening, our urges to be right take over. Using communication skills 1.0 in this brave new 2.0 world are the root cause of many of our biggest problems. Why don't we do something?
We believe that interventions and training that focus on the human side of change and communication will reap huge rewards for those leaders with the Insight to act now.
Other Resources
Digital Transformation
When businesses and the way they operate shift from their traditional mode of operation and management to the modern and technology oriented ways of operation, the transitions referred to as Digital Transformation or disruption.
https://www.forbes.com/sites/brianrashid/2017/06/13/digital-transformation-and-innovation-in-todays-business-world/#213087574905
Resistance
A new survey finds a "widespread stall" in digital transformation efforts, suggesting that its leadership is in crisis. 39% of the senior executives surveyed said they encounter resistance to new ways of working and feel overwhelmed by the complexity of digital transformation efforts.
https://www.cioinsight.com/it-management/slideshows/digital-transformation-is-in-chaos.html