People in sales understand win rates. While most claim they measure and use them to drive execution improvements, this is not what we observe.
Win rates are the number of times you win deals that you have competed in. In a complex B2B sales world, these wins lead to revenue, customers, and confidence in your team. They are the one key metric that is easy to measure in sales cycles for every rep, pre-sales person, and products at the individual unit level. Win rates can be used for numerous roll ups depending upon organization structure, management and functions in your company. Many companies do this well and analyze this Big data with AI and BI tools. They use this metric as an after-action report on what has occurred to give the INSIGHTS to both predict the future and make necessary changes. However, we find that many hot growth SAAS companies are measuring it inaccurately; not using it to implement incremental improvement or innovation; or simply not measuring it at all. We believe that this can be dangerous; getting stuck with the wrong Status Quo as the competitive landscape shifts.
I recently asked Bill, the VP of sales of a $120M SAAS company, if he used this metric. He answered: "of course, doesn't everyone?" My initial assumption then was that he understood this metric and knew how to use it effectively but was surprised when he told me his company's win rate overall was 60%. As a healthily skeptical person, I told him that this was excellent, especially when Sirius Decisions research data reveals that best in class B2B enterprise sales companies have a 40% win rate, 30% loss rate, and 30% of the deals going away. How could this company have these awesome statistics? Unfortunately, I discovered they did not include all the total deals that quota sales people put time and effort into. Their numerator was skewed in a way that gave them a false sense of success, not looking deeper for operational improvements. As we helped them review this data more accurately, they discovered some ideas for improvement that caused large positive effects on their performance, revenues, and profit.  If Sirius research statistics are accurate, depending on your revenue curve, winning one or two more deals per person can have a tremendous affect on the company's performance. Knowing the types of deals that you lose or never sign can be essential in collaborative planning discussions to qualify out early or change strategy and tactics.
Another VP of sales I interviewed mentioned sales has changed and asked if there were other activity measures that were more important to measure. At CI2, we believe both. Sales has changed with buyer 2.0 having the ability to get more information and less time to meet with vendors. What is not true is that we are still in a game where winning means something. Although MRR, ARR, and retention metrics are important today, the core KPI of win rates is still one of the most reliable ways to assess and measure performance. When reps know their win rates by year compared to their peers, they will become more curious about what the "best of the best" are doing to achieve higher performance. When product managers know their win rates they will get more curious about what they need to do to make the product more competitive. When sales managers and VPs of sales know their collective and individual win rates, they will be able to assess their sales leaders, teams and sales operations to determine needed changes. Win rates are a way to discuss what's really happening and engage in a dialogue about how to continuously change to increase performance. It's a number that everyone should know and be working hard to improve just as it is in all other team sports where millions of dollars are at stake.
At CI2, we believe there needs to be a rebirth of the Win Rate metric. With all the advanced technology tools and data available it should be easier than ever to capture, report and slice in dice in ways to help companies and peoples improve and innovate.
If you are interested in challenging your usage of this metric, click the questionnaire link below. We are here to help you unlock more of your potential.
https://sc280.infusionsoft.com/app/page/winratequestionnaire
https://www.linkedin.com/pulse/walk-away-sales-strategy-john-geraci/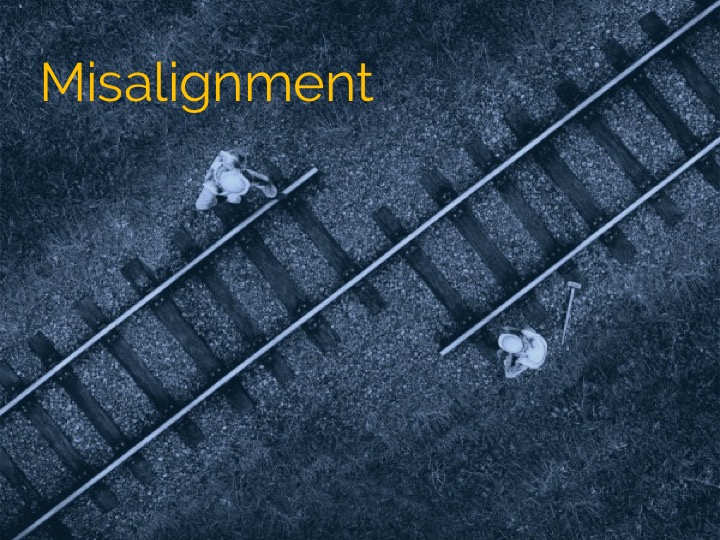 Let me start with a Story of one of our key clients. XYZ is a fast-growing technology company, having problems between product development and product marketing. Product development certainly had a big job for their stable applications that were the backbone of the business. They were also quickly transitioning to a nimbler organization with design thinking and agile methodologies; but not quick enough for the functional units who relied on them.  Product management was actively working with the new digital customers, frequently needing changes to respond quickly. Customers were demanding digital experiences monthly, weekly, and daily. Jane, the head of Product management was constantly in Chip, the VP of development's office, first requesting then demanding that they move faster. Shift what they were working on and change on a dime was always the theme to Chip. Jane could not listen or hear why development could not meet this pace.  Unfortunately, it got heated to the point that Jane and Chip stopped talking.  This spread like wildfire through watercooler conversations, cascading to other loyal members of their teams. Tough issues became harder to disagree on and discuss. The conflict was having a large effect on product development, speed, quality, and even affecting customer satisfaction. Fortunately, in this case, the relationship became so broken that it bubbled up to the CEO, Bill. He was first very angry. Did they just not like each other? Not want the company to succeed? Why could these two senior executives let this happen? Then an idea hit him like a bolt of lightning: what if it was his leadership problem?
We believe that this is not an isolated incident in our fast paced world.  Miscommunication and misalignment may be rampant in your organization. If so, it is sapping your company's productivity, adding time and expense to large projects and slowing your organization down.  Multiple technology disruptions are affecting us rapidly in Cloud, Big Data and AI, IOT and Blockchain. This coupled with the multi-generational transfer in the workplace is creating unprecedented change. We call it Digital Disruption, and want to help you turn it into Digital Transformation.  How do you stay ahead, make sense of this chaos while exploring some new ways of communicating to increase productivity, move faster, reduce conflict, and drive real business results? By focusing on the human side.
Think about your workday and then extend it to the key people you interact with internally or externally. With not enough time to accomplish your important tasks and priorities shifting on a dime, you are frequently multi-tasking or transitioning between tasks. This creates a lot of opportunity for miscommunication and misunderstandings that result in doing things over. There is often not enough time to clarify for our understanding particularly when we disagree. Without this connection and empathic understanding, we are like runners in a relay race who constantly drop the baton.
The effects of our environment are making it harder and harder to communicate for real alignment.  And unfortunately, it is hard to detect.  These opportunities for miscommunication are unfortunately not as clear to your P&L as a lost piece of revenue, increasing costs, or an angry customer. The effects of undetected misalignment and miscommunication can be terrible with downstream affect on costs, employee morale, and your all important culture.
We understand that most of this miscommunication is occurring because the world is changing fast and we are all pressed for time. Unfortunately, the old communication tools and techniques that we have been taught are just not working. They do not teach the behavioral or psychological skills needed to connect with people or how to listen in a way to gain empathy and understanding. And they do not teach us how to slow down. When conflict starts happening, our urges to be right take over. Using communication skills 1.0 in this brave new 2.0 world are the root cause of many of our biggest problems. Why don't we do something?
We believe that interventions and training that focus on the human side of change and communication will reap huge rewards for those leaders with the Insight to act now.
Other Resources
Digital Transformation
When businesses and the way they operate shift from their traditional mode of operation and management to the modern and technology oriented ways of operation, the transitions referred to as Digital Transformation or disruption.
https://www.forbes.com/sites/brianrashid/2017/06/13/digital-transformation-and-innovation-in-todays-business-world/#213087574905
Resistance
A new survey finds a "widespread stall" in digital transformation efforts, suggesting that its leadership is in crisis. 39% of the senior executives surveyed said they encounter resistance to new ways of working and feel overwhelmed by the complexity of digital transformation efforts.
https://www.cioinsight.com/it-management/slideshows/digital-transformation-is-in-chaos.html
Connecting with and understanding customers' business problems and personal implications is more important today than ever. But in this fast-paced world, bombardment of digital messages, priorities shifting on a dime and never enough time, it's not easy. However, when you don't fully understand your customer, you are at great risk.
One of CI Squared's clients, a large software company, discovered the consequences of not taking the time to truly understand their customer. After an initial demo/presentation to this long-standing customer, CI Squared's client received negative feedback that they were losing. They were given another chance and came back 8 months later with a renewed presentation. The 12 members of the team devoted their time and effort to the new presentation during these 8 months, but they were again rejected by the customer. What happened?
CI Squared's lost deal analysis revealed that at the crux of why they lost this sale was a lack of understanding.  No one on the deal team connected with the operational team or key leaders. They were not able to uncover the real implications of their customer's business problem and the time frame needed to solve it successfully. Without these insights, they were proposing a perceived solution they thought would fill their customer's needs. However, from the customer's viewpoint it did not hit the mark and would take too long. By contrast, the competition had built strong connections with workers and executives, they understood the business problem, motivations of the individuals, and the sense of urgency needed. The customer's  team felt that the competitor "got them" and could deliver a better, timelier solution.
The damages were huge: time, resources, and opportunity cost. They could directly measure that they lost a 3-year, $1.5 million deal in an existing account, $4.5M. How about the investment in people and time or the opportunity cost?  How much did it affect their standing with the customer and confidence?
CI Squared believes that better discovery which leads to understanding the customer, both business and personal, is critical in today's world.  How do you help your customer uncover their real problems and deliver insights when they don't have time? Better human interaction through empathic communication can help you gather the Customer's whole story and is at the heart of winning today. Customers want to be understood and want to buy from sales teams that give them insights and confidence. But we often rush to talking about our product or service vs staying in the moment and saying, "Tell me more."
The world has changed and Buyer 2.0 with it. They do not want the same old sales teams who just pitch their products. They have seen that movie before. Your old sales techniques are not enough today to give you the ability to make a strong human connection and listen well enough to get their complete Story with empathy. However, most salespeople have not been exposed to new and innovative ideas and tools. Why not? Some don't realize the magnitude of this problem on their performance. Some are complacent because change is hard. Some just won't invest in their people to fill these GAPS. And some think they do it well already which the research debunks.
You can challenge yourself to see how big of a GAP this is individually or organizationally. Benchmark your win rate % against industry averages. Sirius Decisions statistics show that if you count every deal you work on, best in class B2B sales organizations win 40%, lose 30%, and the final 30% just do not buy. We believe that if you calculate this accurately, you will want to do something now. We can help you dramatically shift these ratios.
https://hbr.org/2017/06/6-reasons-salespeople-win-or-lose-a-sale
https://www.linkedin.com/pulse/walk-away-sales-strategy-john-geraci/
https://www.insidesales.com/insider/inside-sales-virtual-summit-2/losing-deals/
This month we are proud to have the President of CI Squared, John Geraci, present his point of view on the state of the corporate training world, drawing on his experience in the United States Army.
Do you feel like you're flushing training dollars down the toilet? Frustrated and a bit angry, yet knowing training your people is key?
Like most of you, I have been a student, buyer of training and trainer for the better part of 40 years. I believe that we all have great intentions with training, but 80% of our training results in very little behavioral change or real business results—WHY?
While pondering this, my subconscious reminded me of a Story… I was a captain in the United States Army, Airborne/Ranger Infantry. After graduating from the Infantry Officer Advanced course at Fort Benning, I was chosen to participate in a major Army Training Initiative which prepared newly inducted soldiers to be more competent when arriving at their unit. It was an honor to be selected and I would no doubt learn from this experience, but it took almost 40 years to truly appreciate training and how to use it to scale operational performance and gain leverage to train soldiers (people) to execute effectively.
The training struggle for the Army in 1980 was two separate training programs in two locations for basic and advanced trainees. This meant programs were executed by separate cadres and instructors. With typical bureaucracy and overhead, precious time was wasted moving troops from one location to another. They also realized that much of the training was disjointed and had to be repeated. After the 16 week training programs, they were graduating high rates of students per class. But field commanders who received these "newly trained" recruits were left incredulous and frustrated at the unpreparedness of these soldiers and used their own time and resources to bring soldiers up to speed.
General Don Starry, Commanding General of Tradoc, wanted to blow up this model and develop a centralized process that delivered highly trained soldiers to their combat units at a lower cost. This went on to be dubbed "OSUT"- One Station Unit Training.
I was asked to help in the planning to innovate the old into new, so we worked with active infantry units to better understand their needs and problems when trainees arrived. Reimagining how to deliver higher quality, enforceable soldiers while linking the training goals to skills that could then reinforce the principles in the field was a huge step forward. With focus, simplicity, and consistency, less could be more. After 18 months of trial and then implementation in the field, the cost, time, and number of resources, cadres and trainers, was reduced to achieve a better outcome. The graduates left experienced and motivated, battlefield commanders were ecstatic, and the Tradoc Commander and Army Chief of Staff were happy with the cost and overall quality increases. I was proud of the small part I had played and was sure that it would lead me to my dream assignment of working at the Ranger Department. The Army had different ideas, and I became a civilian with the blessing of choosing the nascent Software Industry as my new battlefield.
At this point you may be wondering, what is the point of this Story? Who cares that you trained soldiers and left the Army? How can this Story help me?  I may not know everything about your company, but I see a lot of companies making the same mistakes. There are too many disjointed training programs with no focus or reinforcement; programs being thrown over the fence with no active alignment with first line management; exorbitant amounts of time and money spent on classroom with very little practice and reinforcement; training departments working very hard but with no clear goals, alignment or collaboration with field leaders.
Here are 4 lessons to think about as you invest your training dollar to help your employees deliver high performance:
Start any idea of a training initiative with the WHY and WHAT in mind? What do you need to change or enhance and WHY? Increasing sales productivity to drive revenue from X to Y; increasing customer service conversations to drive satisfaction and more buying from Sat score X to Y and customer revenue from X to Y; aligning people to an organizational change initiative to increase revenue and decrease the cost of a project? If you do not know the business metrics you are trying to change, you will not really be committed and short change the time and effort to make a difference.
Training is NOT an event. When we trained soldiers to shoot rifles, we not only had 8 hours of classroom instruction, but also had 40 hours of on-range training, both live and dry firing. How many times do you conduct a 1 day or 2-day training and assume that your people can execute these skills post training? How do you reinforce the training? How do you continue to discuss and tell stories about results of training? How do you keep this alive as a core skill for competitive advantage?
First line managers are key to reinforcement and practice. If the squad leaders were not bought into reinforcing the training and working pieces into their Battle Rhythm, these important skills would not be mastered and would atrophy over time. Are your first line managers bought into the training? Do they know how to reinforce and practice these skills in everyday situations so it fits into the natural cadence of their work? Or are they first time participants from training scheduled by some HR or higher-level leader with no energy or passion to help make these skills habits that lead to real results?
Training is a campaign, not an event. The OSUT training program we devised all linked together in a way that reinforced the key modules and integrated into the rest of the soldiers training. There was ongoing reinforcement and field practice supervised by competent first line leaders. The skill did not become an effective and efficient behavior until well after the initial training with the necessary focus and emphasis on using this competency to get results. How often do you have this approach?
Let's learn the value of training and take from the General Don Starry Commander book and design your next training initiative as a campaign to send your troops (employees) into the field with military precision and the right tools to battle and win business.
CI Squared is a leadership and sales training company focused on communication through Storytelling. We are bringing all of these ideas to our training programs in a desire to innovate or "change the training game". We deliver real behavioral change to achieve your business results.
Learn more about John's Story:
Why the Military Produces Great Leaders
The Impact of Poor Training in the Workplace
How To Create The Worst Employee Training Experience Ever
How can you ignite passion?
According to a Gallup research poll, only 30% of the U.S. workforce is engaged in its work. Shockingly, the vast majority of U.S. workers (70%) are not reaching their full potential. Analyzing how and why your employees are motivated is worth investing in to ensure success and productivity for your business.
While many exist depending on the company, there are 2 main reasons why your team is not committed:
Employees focus on WHAT they are doing, not connecting with WHY or their passion.
Leaders don't have a compelling vision
In our fast paced world today, everyone is moving at light speed and leaders don't take the time to inspire. Leaders finds themselves lost on what inspiration to tap into because they have not taken the time to ask employees about their passions.  So how can we understand peoples' passion and motivation to help inspire them to bigger dreams and successes? We try to do it with simple words or phrases, but do these attempts truly harness the passions and desires of the team? Does it help them see how they make a difference and ignite their potential for action?
It all comes back to the fundamental basics of understanding people.  For true understanding and empathy, you must take the time to listen. Use this information to shift your conversation or Story to one of inspiration.
Gather the stories of your people and understand how to inspire them into action. How can their individual "WHY Story" be tied into the purpose of the company and real business outcomes?
Lead. Your team is looking to you for inspiration – be a beacon of hope and dreams. Make your employees passion the key to your company culture and you will tap into unprecedented excellence in all aspects of your business. Tell and celebrate internal Hero Stories of employees who overachieve and delight your customers.
Communicate your vision/strategy and their role in achieving this success. Explaining the "why" and the "what" to your employees makes empowering them to execute with their own "how" that ignites their 100% commitment, leading to innovation and success.
Have you asked your team "Is this really what you want to be doing with your life?" If you think, NO, then instead of fearing, be open to ask why, gather the challenges and redefine. You may not have all the answers, but be open to asking, telling and sharing. If it is  "YES I am," then find ways to harness this passion on your key activities and projects allowing you to execute with passion. Your colleagues and leaders will take notice.
A passionate workforce is a productive workforce. Everyone benefits from listening and gathering to understand. When the struggles get tough and performance/ productivity starts to lag, you will be able to re-inspire your team if you tap into their WHY and passions. We all fundamentally want to win and succeed.
As quoted in The Art of the Nudge: "Unfortunately empathetic listening and playing back emotions is a rare skill…When you truly believe that someone really knows how you feel, you identify, you feel safe, and you let your guard down. This intent focus by someone else can make you feel like you can be more than you think you can, and accomplish almost anything." Pg 98 and 99
Nudge: Go deeper than just small talk with your employees. Start a conversation about passion, commitment and purpose.
Other points of view:
https://www.forbes.com/sites/stevedenning/2014/10/08/debunking-myths-about-worker-passion/#6c4b7d438f4b
https://www.fastcompany.com/3045108/how-to-rekindle-your-purpose-and-passion-for-work