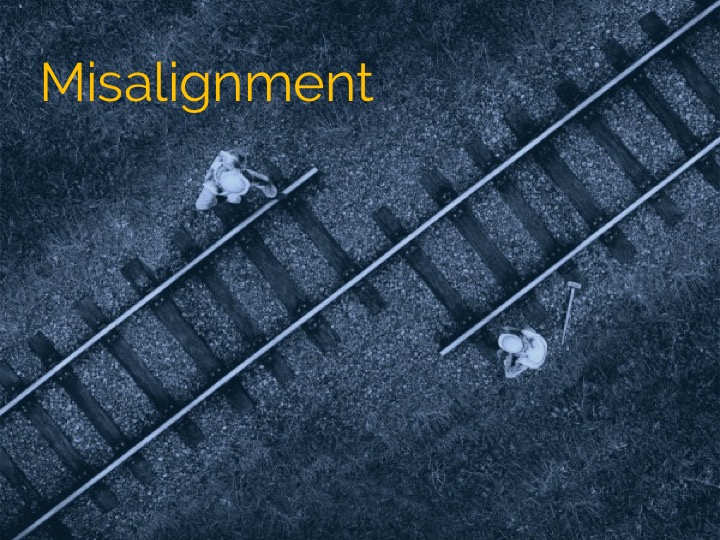 Let me start with a Story of one of our key clients. XYZ is a fast-growing technology company, having problems between product development and product marketing. Product development certainly had a big job for their stable applications that were the backbone of the business. They were also quickly transitioning to a nimbler organization with design thinking and agile methodologies; but not quick enough for the functional units who relied on them.  Product management was actively working with the new digital customers, frequently needing changes to respond quickly. Customers were demanding digital experiences monthly, weekly, and daily. Jane, the head of Product management was constantly in Chip, the VP of development's office, first requesting then demanding that they move faster. Shift what they were working on and change on a dime was always the theme to Chip. Jane could not listen or hear why development could not meet this pace.  Unfortunately, it got heated to the point that Jane and Chip stopped talking.  This spread like wildfire through watercooler conversations, cascading to other loyal members of their teams. Tough issues became harder to disagree on and discuss. The conflict was having a large effect on product development, speed, quality, and even affecting customer satisfaction. Fortunately, in this case, the relationship became so broken that it bubbled up to the CEO, Bill. He was first very angry. Did they just not like each other? Not want the company to succeed? Why could these two senior executives let this happen? Then an idea hit him like a bolt of lightning: what if it was his leadership problem?
We believe that this is not an isolated incident in our fast paced world.  Miscommunication and misalignment may be rampant in your organization. If so, it is sapping your company's productivity, adding time and expense to large projects and slowing your organization down.  Multiple technology disruptions are affecting us rapidly in Cloud, Big Data and AI, IOT and Blockchain. This coupled with the multi-generational transfer in the workplace is creating unprecedented change. We call it Digital Disruption, and want to help you turn it into Digital Transformation.  How do you stay ahead, make sense of this chaos while exploring some new ways of communicating to increase productivity, move faster, reduce conflict, and drive real business results? By focusing on the human side.
Think about your workday and then extend it to the key people you interact with internally or externally. With not enough time to accomplish your important tasks and priorities shifting on a dime, you are frequently multi-tasking or transitioning between tasks. This creates a lot of opportunity for miscommunication and misunderstandings that result in doing things over. There is often not enough time to clarify for our understanding particularly when we disagree. Without this connection and empathic understanding, we are like runners in a relay race who constantly drop the baton.
The effects of our environment are making it harder and harder to communicate for real alignment.  And unfortunately, it is hard to detect.  These opportunities for miscommunication are unfortunately not as clear to your P&L as a lost piece of revenue, increasing costs, or an angry customer. The effects of undetected misalignment and miscommunication can be terrible with downstream affect on costs, employee morale, and your all important culture.
We understand that most of this miscommunication is occurring because the world is changing fast and we are all pressed for time. Unfortunately, the old communication tools and techniques that we have been taught are just not working. They do not teach the behavioral or psychological skills needed to connect with people or how to listen in a way to gain empathy and understanding. And they do not teach us how to slow down. When conflict starts happening, our urges to be right take over. Using communication skills 1.0 in this brave new 2.0 world are the root cause of many of our biggest problems. Why don't we do something?
We believe that interventions and training that focus on the human side of change and communication will reap huge rewards for those leaders with the Insight to act now.
Other Resources
Digital Transformation
When businesses and the way they operate shift from their traditional mode of operation and management to the modern and technology oriented ways of operation, the transitions referred to as Digital Transformation or disruption.
https://www.forbes.com/sites/brianrashid/2017/06/13/digital-transformation-and-innovation-in-todays-business-world/#213087574905
Resistance
A new survey finds a "widespread stall" in digital transformation efforts, suggesting that its leadership is in crisis. 39% of the senior executives surveyed said they encounter resistance to new ways of working and feel overwhelmed by the complexity of digital transformation efforts.
https://www.cioinsight.com/it-management/slideshows/digital-transformation-is-in-chaos.html
Or, why aren't you breaking through the clutter?
You may ask yourself this question after a series of unanswered emails or a promising deal cut short. Here's why. People don't have time. What our research shows us is that the amount of incoming content to every person is staggering.  "According to Time.com, the average person looks at his/her phone 46 times every day (up from 33 looks per day in 2014).  Our new-ish -"always on" culture, complete with the enormous pressure of the expectation of instant responses, effects everything from the quality of our sleep to the depth of our relationships". (Forbes)
In a fast paced world filled with overwhelming amounts of external and internal stimuli, people are of course:
Busier than ever before
Shifting priorities constantly
Answering too many messages
Bombarded with content
But if you do not realize this, your message or attempt to get through to a customer will undoubtedly fall flat. The most important mission of sales people and sales methods & techniques is to break through the static. Many current sales methodologies are stuck in the past, not reflecting the new behaviors of Buyer 2.0

Lack of understanding and not connecting personally with customers is a trait that unsuccessful sales people possess in abundance. They hog the conversation with chatter, solutions, features and functions instead of listening. They do not listen to or understand the customer. Humans crave emotional connections and a conversation that uncovers insights. According to this article on Openview, the top sales performers listen 54% of the time and talk 46% of the time. It's not just that a conversation (not an interrogation) is happening, but the interesting topics that weave in and out of the conversation. What kind of sales conversations are you having? Is it just product, solutions, features and functions?  Are you having trouble understanding and making a connection with your harried customers? Are you listening with empathy?
We believe that the world of work is changing dramatically and if you do not update your communication skills to have more insightful business conversations, you will struggle mightily.
Evaluate critically your business conversations to determine what needs to change and invest now to innovate and grow.
https://labs.openviewpartners.com/data-from-1-million-sales-calls-explains-the-difference-between-top-reps-and-everyone-else/?utm_campaign=General%20Newsletter&utm_source=hs_email&utm_medium=email&utm_content=59005285&_hsenc=p2ANqtz-8JhRuu1Dn9l8Lj_GtIvuOQnPB6ecTipkW4Nd0CKTDhhhErTvjhhO7cUuPK-gGQvyIzYCOMfIW2Ib4NsTsBFlZsWlZySQ&_hsmi=59005285#.WnjH8ZM-d25
https://www.entrepreneur.com/article/72774
https://www.forbes.com/sites/pauljankowski/2016/08/24/5-ways-to-break-through-the-noise/#284305741d2f
Millennials…Start 'Em Early
Remember back in the day when "1999" by Prince thumped on every boom box? The ominously funky jam was the perfect song to celebrate the new millennium. Yet as the reality of "Y2K" sunk in, people responded with panic, triggered by great fears of the unknown. So many questions, worries and tragedies were predicted. With some minor glitches and adjustments, we all survived. So why does a momentous generational shift already in motion alarm your company?
Millennials are the generation born then between 1982 and 2004, now 13 to 35 years old and quickly maturing into the work force. They're most known for filling positions formerly held by baby boomers but "This group's values, needs, wants and ways of working are different and will cause the same kind of disruptions and opportunities that the baby boomers who preceded them did" (The Art of the Nudge pg 17).
The Bersin by Deloitte report highlights, "…more than 3.6 million company chiefs are set to retire as younger professionals ascend to managerial slots. Companies are busy planning for this transition anticipating the massive loss of boomers" (Altman). Once again, the impact of the "millennium" creates its own sort of chaos as this unique workforce comes in requiring a cultural shift as well.  Communication-wise, Millennials appear to be the most connected digitally, but disconnected interpersonally.  This generational shift requires training and development programs to allow new employees, managers and leaders to adapt. Are you investing time to train Millennial employees to adapt? You should be.
Leadership expert and author of Liquid Leadership, Brad Szollose says, "You can't put someone in a leadership role assuming they have the skills to lead, only to train them 10 years later. If you want Millennials to succeed, invest in their leadership development today." Leadership qualities and soft skills are invaluable and critical to prioritize in training Millennials.
With 200-300 social/digital media posts coming at Millennials every day, the number of disruptive ideas accentuate the pace of change. It's no surprise Millennials' priorities shift rapidly; they are distracted and racing to keep up!
New leaders need to be able to communicate in a way that:
Engages people by listening and respecting them;
Creates a compelling vision that they want to and are able to "opt into";
Gains alignment so they take action with passion and persistence;
Creates high performing execution;
Employers view these characteristics as critical a skill set for high performance as competent, technical skills. Gathering stories from others fosters unprecedented understanding of them so we walk away from conversations knowing how we can help one another in a mutually beneficial way. A human leader speeds up your real business performance. We find Millennials to be thirsty for learning to elevate their skills and inspired by the idea of slowing down to truly understand people, their needs, wants and desires through empathic conversations.
Nudge: Think about what are you doing to create these new Millennial Leaders.  How will you help unleash, embrace and empower their enormous potential?
https://www.forbes.com/sites/ianaltman/2016/12/06/top-10-business-trends-that-will-drive-success-in-2017/2/#5fae4b92349b
https://www.forbes.com/sites/williamvanderbloemen/2017/02/22/how-to-spot-leadership-potential-in-millennials/#7aee4b8b16fa
https://www.theatlantic.com/national/archive/2014/03/here-is-when-each-generation-begins-and-ends-according-to-facts/359589/
https://www.geteverwise.com/human-resources/hr-in-2017-new-bersin-by-deloitte-report-predicts-most-disruptive-year-ever/
Can you have it all with the Human Side of Digital Disruption?
I have read several articles recently about the need for empathy and understanding in the workplace. Fortune Magazine, McKinsey Insights, and LinkedIn have all had them. It is often related to the needs and wants of millennials; a generation that wants to make a difference, have a better work-life balance, and is always connected. The pleas for empathy and understanding come from the knowledge that our fast-paced world is shifting. Millennials and digital disruption are creating great opportunities for new business models with seamless service and delivery, disrupting a lot of current mainstay businesses that have built their empires over decades of inch-by-inch strong growth: Uber vs. Taxi Cabs, Tesla vs. VW, or Salesforce vs. Microsoft.